September 15, 2022
Reminder: Attend Sept. 22 virtual lecture with K-State common book author Amanda Ripley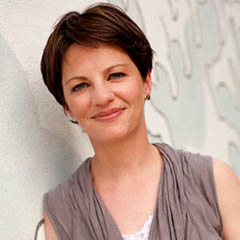 Amanda Ripley — author of the Kansas State University 2022 common book "The Unthinkable" — will give a virtual lecture to discuss her award-winning book with Kansas State University students, faculty and staff.
"An Evening With Amanda Ripley" will be livestreamed on the K-State First Book website at 7 p.m. Thursday, Sept. 22. The event is free and open to the public. Read more about Ripley's lecture.
First-year students can still pick up their free copies of "The Unthinkable" at the first-floor Welcome Desk or second-floor Help Desk of Hale Library.
In "The Unthinkable," award-winning journalist Ripley explores who survives when disasters strike and why.
The fall semester will include multiple other virtual and in-person events that connect with the 2022 book selection. View a full list of events and find more information at k-state.edu/ksfb.
Other upcoming events include:
• "'Becoming Trauma Responsive': A College of Education Documentary on the Effects of Trauma on Learning, Behavior and Developing Relationships" panel discussion, 4:30-6 p.m., Tuesday, Sept. 20.

• K-State MANRRS and "The Unthinkable" panel discussion, 11:30 a.m.-12:30 p.m., Friday, Sept. 23.

• "K-Staters Responding to Crisis" panel discussion, noon to 1 p.m., Friday, Sept. 30.

• "Disaster Response for Animals — Large and Small" panel discussion, 2-4 p.m., Friday, Oct. 28.

• "Navigating Trauma in School and Social Settings" lecture, 1:30 p.m., Wednesday, Nov. 2.
K-State First Book is partnering with several university and community organizations to coordinate programming for the 2022 common book. Programming partners so far include the Marianna Kistler Beach Museum of Art; the English department in the College of Arts and Sciences; the College of Education; the College of Architecture, Planning & Design; the Minorities in Agriculture, Natural Resources and Related Sciences, or MANRRS, chapter; the College of Veterinary Medicine; the College of Health and Human Sciences; the Division of Multicultural Student Affairs; K-State Libraries; the Mary Lynn and Warren Staley School of Leadership and UFM Community Learning Center.