August 17, 2022
Launching our statewide regional community visits initiative
Submitted by President Richard Linton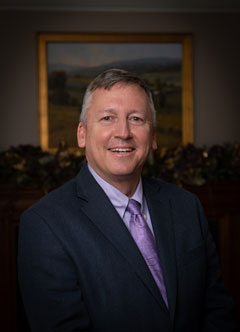 Dear K-State community,
This time of year always brings a feeling of anticipation and excitement. Our campuses are coming alive with renewed energy as our students, faculty and staff prepare for the semester. As a university community, we are poised for an academic year focused on discovery, connection and growth.
It is hard to believe that I have been at K-State for six months. During these early months, it has been a pleasure to travel the state and listen, learn and discover more about what makes K-State such a unique and special place. I am excited to start the academic year and work with you to advance many important strategic initiatives for our university. Today I am writing to update you on our regional community visits initiative, which we will officially kick off on Thursday, Sept. 1. Every academic year, nine regional community visits will be held throughout the state to listen and learn from the Kansans who live there.
Since our last update, we have made great progress in planning these visits to deepen our university's connections with the communities and people of Kansas, strengthen our engagement and extension networks, and increase in-state student enrollment. The events for each visit will be open to all — current and future students, parents, families, community members, leaders and partners. Each community visit will feature a day of conversations with events to highlight community engagement, extension partnerships and collaborations, service projects, and recruitment activities featuring students from the region sharing their stories about the difference the K-State experience has made in their lives.
One very special attribute of K-State is the central role students play in leading our university. These community visits will place students and their K-State experiences front and center. The planning team is working to identify Connected 'Cats student leaders after receiving more than 130 nominations from across the university. These student leaders will serve in crucial leadership roles for these visits — these include providing event leadership, facilitating important community dialogues, filling key speaking roles and supporting event logistics. In addition, students from all campuses and academic colleges will serve on panels, conduct social media takeovers, provide their student stories for media features and drive how we follow up and continue to engage with our state's communities. I believe there is no better way to share how K-State provides students with lasting experiences and helps them secure great jobs than to have a diverse group of current students speaking directly with our community members.
As you know, we have also announced our shared work on defining K-State's strategic direction as a next-generation land-grant university. These regional community visits and how we plan for the future are very much interconnected. While we are listening, learning and connecting in our Kansas communities, we will also gather insights and feedback that will be an early and important part of defining our future success.
Many of you have asked how you can participate in and support the regional community visits. We invite you to stay up to date on the schedule of activities at each location. Our first visit is set for Thursday, Sept. 1, and focuses on the Flint Hills region of Riley, Pottawatomie, and Geary counties. We appreciate the recognition of the longtime partnership between K-State and the city of Manhattan as a host community of one of our campuses. To celebrate the upcoming Flint Hills regional community visit, Manhattan Mayor Linda Morse signed a proclamation at the Manhattan City Commission meeting just yesterday declaring Sept. 1 as K-State & Community Partnership Day.
The Flint Hills event has activities in Riley, Geary and Pottawatomie counties and features several important issues for Kansans and the region. I want to personally invite you to three major public events on Sept. 1:
Community open forum, 8:30-9:30 a.m., Hilton Garden Inn, Manhattan Conference Center. We encourage you to be part of the dialogue about university and community connections and the student experience.
Mobile food distribution service project, 4 p.m., C-1 parking lot, Chester E. Peters Recreation Complex. Join HandsOn Kansas State, community members, students, faculty and staff in a service project to address food insecurity in our community.
Calling all 'Cats, 6-7:45 p.m., K-State Alumni Center Ballroom. Bring future K-State students to hear from current students and experts to learn more about our excellent student experience and pathways to careers. Registration starts at 6 p.m. and the program starts at 6:30 p.m.
You can view the complete schedule for the Flint Hills visit on the regional community visits initiative website.
After the Flint Hills visit, the other regional community visit dates for the fall 2022 semester are:
Sept. 27, Ford County/Dodge City.
Nov. 2, Greater Kansas City area.
Dec. 5, Central Kansas/Salina.
The five spring semester visits will include locations in northeast, south central, southeast, southwest and northwest Kansas. More details about each visit will be provided closer to the dates. Please continue to check the website for updates and details on the regional community visits initiative.
As the nation's first operational land-grant university, we are uniquely positioned with our presence in all 105 Kansas counties to serve Kansans in a diversity of ways unmatched by any other university. Our community visits initiative gives us the opportunity to celebrate and expand upon our relationships across the state, ensuring we continue to find new and innovative ways to meet the needs of the people of Kansas. I look forward to working with all of you to shape the future of our university and serve our state.
Go 'Cats!
Richard Linton
President