June 29, 2022
A letter from President Richard Linton
Submitted by President Richard Linton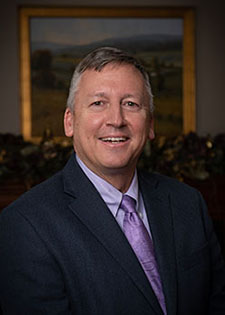 Dear K-State community,
As you all know, serving the state of Kansas — but more specifically, its people — is core to our land-grant mission. For me, a core component of this service is not only about contributing our knowledge and talents as a university — it's about intentionally matching up our expertise with the unique needs of those we serve and collaborating together to create stronger, healthier communities.
I say this as I return from a weeklong tour across parts of the state. I visited with numerous alumni and friends in many Kansas communities, and I learned more about the various needs these communities currently have. And let me tell you, I am inspired by how K-State can partner and help.
In my May 11 update to the university, I announced a new initiative in the works: a series of regional community visits to take place during the academic year. These visits will celebrate the university's partnership with communities across the state and create a framework for reaffirming relationships, strengthening our Extension and Engagement networks and increasing student enrollment. Additionally, they will give us an intentional opportunity to put our land-grant mission into action to build better lives for Kansans.
The core project team is starting to plan activities with our partners and stakeholders in nine areas of the state, with the intent of one visit each month during the academic year. I am also excited to share that we have welcomed home a familiar face as project manager for this initiative: Dr. Emily Lehning has joined the core project team to serve in this capacity. The project team includes:
Gregg Hadley, director, Cooperative Extension, co-team leader.
Tim Steffensmeier, interim director, Office of Engagement, co-team leader.
Lynn Carlin, special assistant to the provost.
Mirta Chavez, interim associate vice president, Diversity and Multicultural Student Affairs.
Jeff Ebeck, senior and vice president, Student Governing Association.
Karen Goos, vice provost for enrollment management.
Ashley Martin, interim vice president, Communications and Marketing.
Chuck Taber, provost and executive vice president.
Mary Tolar, dean, Staley School of Leadership.
The units represented by the core planning team are incredibly intentional:
Student enrollment is the heartbeat of our university, and we must show Kansans what we know to be true: The student experience here is second to none, and it serves as a springboard that lifts up future leaders to do engaged work across our state. No one is better suited to tell this story than our very own students, which is why we are forming a student team — Connected Cats — to lend the student voice to the planning and implementation of events.
Our engaged teaching and learning fuse together our academic and service missions, and cooperative extension gives us a presence in all 105 counties in the state. When we combine these together, we create an embedded knowledge and expertise network that no other university is positioned to offer to our state.
Finally, all of this great work is nothing without our ability to consistently communicate our efforts, as telling our story helps our communities understand how we serve them and how we contribute to a healthier, stronger Kansas.
As we charge ahead, I want to share that the first community visit, which will celebrate our support of and commitment to the Flint Hills region, is slated to take place Sept. 1. The first visit will be part of a series of activities celebrating K-State, including inauguration activities on Sept. 2 and the first home football game of the season on Sept. 3.
The project team is building on feedback gathered at the May 3 First Tuesday. You will hear more about the specific activities and ways to participate in the coming weeks as the team's work continues.
K-State has a long history of engaging fellow Kansans to tackle the most pressing problems and collaboratively pursue the best opportunities for a better future. We look forward to continuing this tradition with a renewed sense of passion.
Go 'Cats!
Richard Linton
President