January 25, 2022
Caldas receives prestigious Enlaces Award from the Conference of Latin American Geographers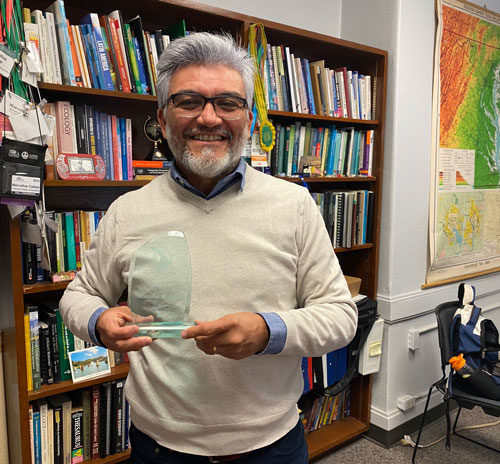 Marcellus Caldas, geography and geospatial sciences, is this year's recipient of the Enlaces Award from the Conference of Latin American Geographers. This prestigious award honors Caldas' many contributions to the field of Latin American geography.
The Enlaces Award is given in recognition of contributions to improving relationships between geographers and geography departments throughout Latin America and to the field of Latin American geography. Recipients need to have demonstrated success and commitment toward this goal.
Caldas, originally from the Brazilian Amazon, has dedicated more than 30 years of his life to the study of land use and land cover change in Latin America. Throughout his career, he has visited many geography departments in Latin America where he gave talks, lectured, developed international collaborations, served as an external professor in graduate committees and recruited graduate students. Caldas is an internationally well-known figure in the field of land use science.
"This award to Dr. Caldas recognizes the many and lasting scholarly contributions by him and his students to the field of Latin American geography," said Chuck Martin, department head of geography and geospatial sciences. "It adds to the long list of contributions he has made to international education and research at Kansas State University."
Caldas earned his doctorate in applied economics from the College of Agriculture at the University of São Paulo in Brazil and his doctorate in geography from Michigan State University. He also had postdoctoral training at the Center for International Development at the Kennedy School of Government, Harvard University.
Caldas has been at K-State for 14 years and received the International Educator of the Year Award in 2013.