January 25, 2022
Legislative Update
Last week in the Kansas Legislature, the Senate Redistricting Committee passed out the Ad Astra Map that redraws the lines of the four Kansas congressional districts. The map was debated and passed by the full Senate on Jan. 21 and will be discussed in the House of Representatives this week. The map is contained in Senate Bill 355. The Manhattan and Salina campuses remain in the 1st Congressional District and the Olathe campus remains in the 3rd Congressional District.
Also last week, the Kansas Board of Regents met and reviewed Gov. Laura Kelly's budget recommendations. The board issued a news release expressing enthusiasm for the budget.

Click to enlarge the chart below to compare the Kansas Board of Regents requests and governor's recommendations.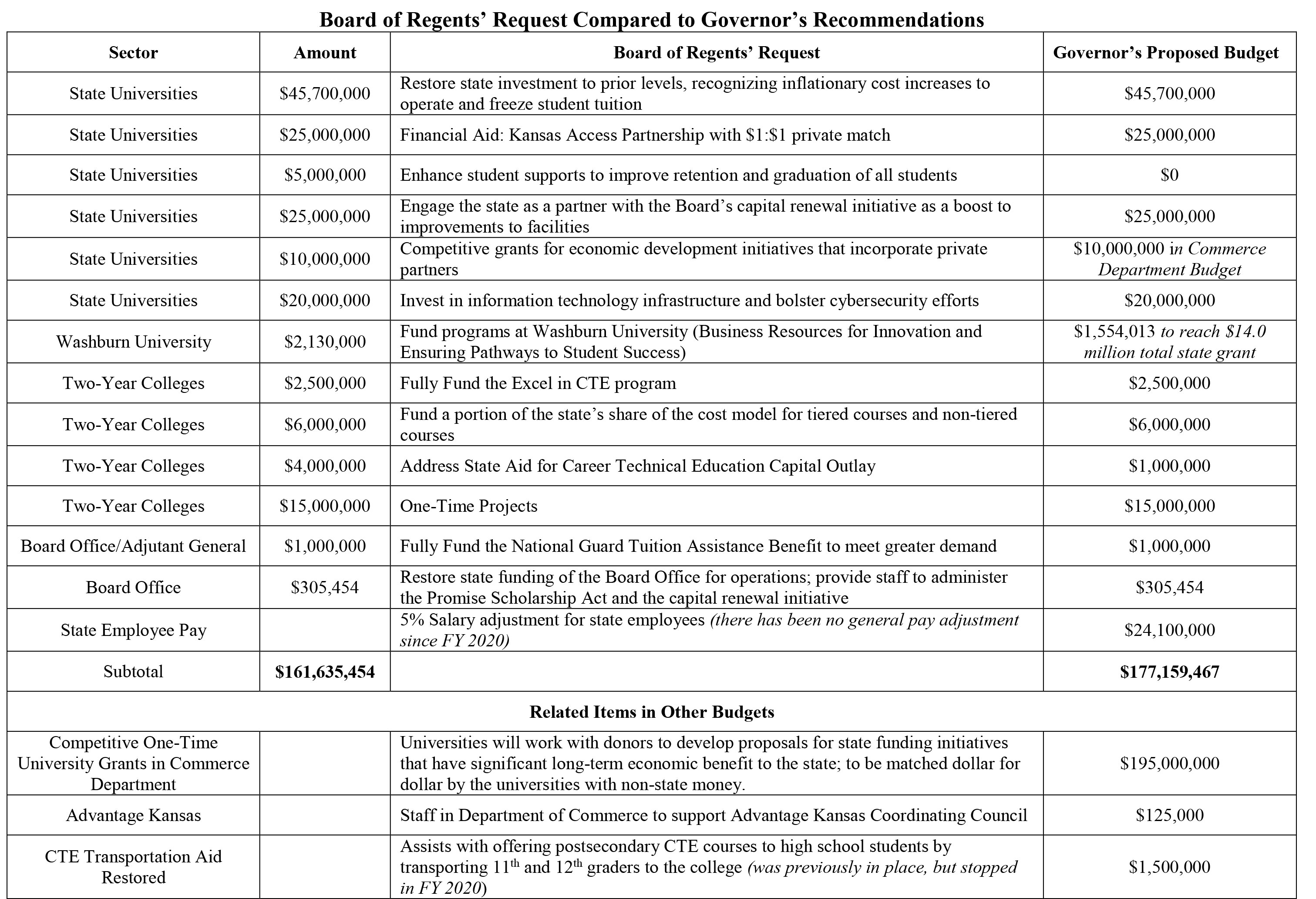 Legislative hearings for the week of Jan. 24-28.

Monday, Jan. 24, 1:30 p.m.
David Rosowsky, vice president for research, Kansas State University.
Presentation: "Kansas State University Plan for Economic Prosperity"
House Commerce Committee

Tuesday, Jan. 25, 1:30 p.m.
Scott DeLoach, professor and department head, computer science department, Carl R. Ice College of Engineering.
Presenting testimony on House Bill 2466: Enacting the Promoting Advancement in Computing Knowledge Act
House Committee on Education

Wednesday, Jan. 26, 9:30 a.m.
Ethan Erickson, chief financial officer and interim vice president and chief operating officer,
Kansas State University.
Submitting testimony on Senate Bill 322: Relating to proceeds upon sale of surplus property
Senate Committee on Financial Institutions and Insurance

The Kansas Legislature will provide virtual access to committee meetings and floor action throughout the 2022 legislative session. Links to access the meetings can be found at kslegislature.org/li.
The Office of Government Relations will provide virtual weekly Legislative Updates through the remainder of the Legislative session, scheduled to adjourn in early May. The updates will be from noon to 1 p.m. on Fridays by Zoom.
Zoom details are below. You will be required to sign in with your K-State eID and password to access the meeting.
Join Zoom meeting
Meeting ID: 996 6618 4318
Passcode: 829804

Throughout the Kansas legislative session, the Office of Government Relations maintains a list of legislation pertaining to higher education, K-State and state agency operations. To subscribe to the listserv, email kstategr@k-state.edu.

If you have any questions regarding the Kansas Legislature, please contact Sue Peterson or Kristin Holt in the Office of Government Relations at 785-532-6227.