January 25, 2022
College of Business hosting annual Martin Luther King Week lecture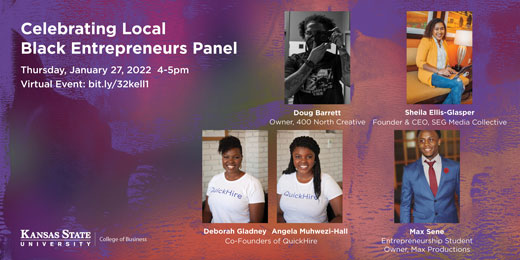 The College of Business is hosting the annual Martin Luther King Week lecture via Zoom from 4-5 p.m. Thursday, Jan. 27. The event will feature a panel of local Black entrepreneurs who will answer questions about their experiences. Please register here for this free event.
"We are honored to feature these nationally and internationally recognized Black entrepreneurs who are based out of Kansas," said Olivia Law-DelRosso, assistant dean for diversity, equity, inclusion and belonging. "This event will celebrate their success and also give the local community an opportunity to hear what their experiences have been like starting and running a business in our area as a person of color."
According to Law-DelRosso, the College of Business has held a featured event during MLK Week for nearly 10 years, but this is the first time the event has featured local Black entrepreneurs.
On the panel:
• Deborah Gladney and Angela Muhwezi-Hall, co-Founders of QuickHire, Wichita.
o The first Black women in Kansas to raise $1million for a tech startup

• Sheila Ellis-Glasper, founder and CEO, SEG Media Collective, Manhattan.
o 2021 Kansas Minority Business Advocate of the Year award from Gov. Laura Kelly

• Doug Barrett, owner, 400 North Creative, Manhattan.
o Internationally recognized documentary photographer, videographer, and photojournalist with clients including Bloomberg News, TIME Magazine, National Geographic, Politico, New York Times, Smithsonian Magazine, Washington Post, Wall Street Journal and CNN.

• Max Sene, owner, Max Productions, Manhattan.
o Sophomore studying entrepreneurship.

Learn more about how the College of Business celebrates diversity. View more information on the college's new diversity, equity, inclusion and belonging in business certificate.