January 13, 2022
Laura Hohenbary and Sim Jun recognized as Professional Staff and Professor of the Week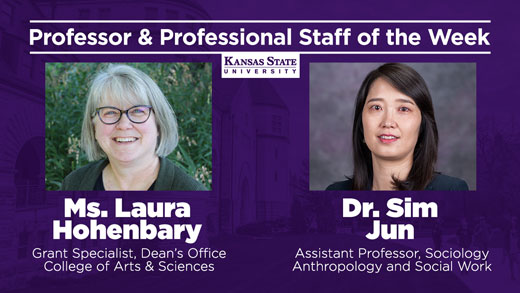 Laura Hohenbary, grant specialist and assistant to the dean for research in the College of Arts and Sciences, and Sim Jun, assistant professor of sociology, anthropology, and social work, were recognized as Professional Staff and Professor of the Week at the Jan. 12 men's home basketball game.
Faculty Senate, the Office of the President, K-State Athletics and the Division of Communications and Marketing wish to recognize their contributions to K-State.
Hohenbary is resource for all faculty in the college to assist in searching for extramural funding opportunities, connecting faculty across disciplines, coordinating with RSCAD-related offices in other colleges and units, assisting with proposal development, and finding answers to faculty questions and concerns. She loves working in the College of Arts and Sciences as it gives her the ability to work with faculty in a wide range of disciplines and strives to provide resources that help support all grant needs, from small travel grants to large collaborative center grants.
Hohenbary has worked in research administration at K-State for more than 15 years, including positions that have given her a broad range of skills from pre-award proposal submissions to post-award financial reporting and compliance.
Jun received her doctorate from the University of Missouri, Columbia in 2017 and joined the K-State social work faculty as an assistant professor in 2018. She has demonstrated a passion for educating future social workers, and her excellence in teaching has been recognized and celebrated by her students and colleagues. She won the 2021 Teaching and Mentoring Award from the Honors Program, and she also won a 2021 Global Campus Excellence in teaching award.
In addition to demonstrated teaching prowess, her research work includes publications on health disparities, health literacy and coping mechanisms among older adults. Jun is also a member of the gerontology faculty at the Center on Aging, a faculty scientist at the Johnson Cancer Research Center, and Community Advisory Committee member in the social work program.