November 29, 2021
Brandy Shaw recognized as Professional Staff of the Week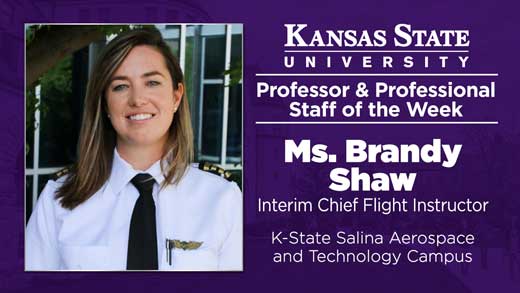 Brandy Shaw, interim chief flight instructor, was recognized as Professional Staff of the Week at the Nov. 28 men's home basketball game.
Faculty Senate, the Office of the President, K-State Athletics and the Division of Communications and Marketing wish to recognize her contributions to K-State.
During the past 18 months, Shaw has gone above and beyond her duties as assistant chief flight instructor. In early 2020, the chief flight instructor, the late Bill Gross, had to step away from his duties at K-State due to cancer. Shaw stepped up and assumed many of the responsibilities normally covered by the chief flight instructor. She has a heart for students and wants them to succeed but expects them to attain high standards.
Furthermore, when the COVID-19 pandemic hit the Kansas State University Salina Aerospace and Technology Campus, it was especially troubling for the flight program. Shaw, along with her colleagues, devised solid plans on how to continue with flight training and getting students safely back into the cockpit. Her continued efforts in these areas and numerous other tasks as interim chief flight instructor contributed greatly to the ongoing success of the flight program during difficult times. Shaw highly deserves this honor. We commend her service, dedication and loyalty to the flight program.