Mannheim Steamroller by Chip Davis returns to K-State
Monday, Nov. 29, 2021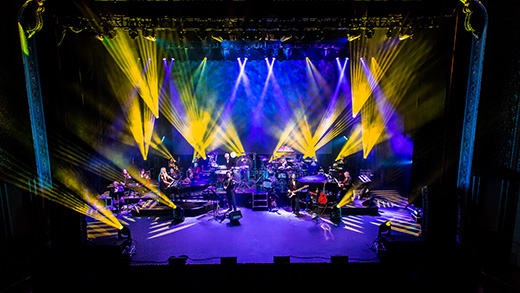 Catch Mannheim Steamroller by Chip Davis at 7:30 p.m. Tuesday, Dec. 14, in McCain Auditorium. Tickets are available now. | Download this photo.
MANHATTAN — The McCain Performance Series at Kansas State University concludes its Christmas programming with the return of one of the world's best-known holiday attractions, Mannheim Steamroller by Chip Davis, at 7:30 p.m. Tuesday, Dec. 14, in McCain Auditorium.

Remember the first time you heard "Mannheim Steamroller Christmas?" Relive the experience as the group celebrates 35 years of holiday magic when its annual holiday tour comes to McCain Auditorium. Experience the performance of the No. 1 Christmas music artist in history and for the first time ever, hear the entire album that started it all, "LIVE —Mannheim Steamroller Christmas."

Tickets are available online at mccain.k-state.edu or at the Ticket Services Office in the newly expanded McCain lobby from noon to 4 p.m. Wednesdays through Fridays. Tickets are available by phone, 785-532-6428, during the same hours. Kids 18 and under get 50% off the general price of admission.

McCain Auditorium is following K-State's policies for COVID-19 health and safety procedures, which include a face mask requirement. Everyone must wear a face mask over their mouth and nose while inside McCain Auditorium. If a patron is seen not complying with this policy, they will be asked to wear a mask, ensuring it covers the mouth and nose. If an individual does not comply with the request to properly wear a mask, the individual will be escorted from the premises and tickets will not be refunded. For more information on K-State's policies, please visit k-state.edu/covid-19.

For the 2021-2022 season, and due to the uncertainties surrounding COVID-19, if a patron wishes to not attend a show for any reason, the patron can ask for a refund or a credit equal to the price of their tickets — ticket fees are nonrefundable — added to their account up to 30 minutes before showtime. As stated above, however, individuals in physical attendance at McCain Auditorium not complying with the mask requirement will not be issued refunds.

For more information, email mccain@k-state.edu.