November 29, 2021
K-State Tap Dance Ensemble to perform with Topeka Symphony Orchestra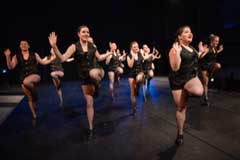 The Capitol Federal Topeka Symphony Holiday Concert will be presented at 7:30 p.m. on Wednesday, Dec. 1, in White Concert Hall on the Washburn University campus. The theme of this year's holiday concert is "En Pointe" to go along with the Topeka Symphony Orchestra's theme for the 2021-2022 season, "Dance Mix."
TSO Music Director and Conductor Kyle Wiley Pickett said, "Our annual Capitol Federal Holiday Concert is always one of our favorite concerts of the year. During the Holiday Season, we often think about what we are grateful for. This year, I am very grateful that the Topeka Symphony has been able to continue to perform for our city and our community, and I am very grateful to see most of you, our audience, in person!
"Continuing our season's emphasis on the music of dance, we are so happy to feature the remarkable K-State Tap Dance Ensemble from Kansas State University, under the direction of Julie L. Pentz. We know you will enjoy their performance! It will be fun to see a different dance style with some of the Nutcracker tunes we all know so well."
Immediately following the concert, the audience is invited to greet Maestro Pickett and the musicians of the Topeka Symphony Orchestra at a reception hosted by Capitol Federal in the Bradbury Thompson Alumni Center.
Season ticket packages for four or five concerts for the 2021-2022 season of the Topeka Symphony Orchestra are still available. A Flex Pass, good for any combination of four admissions, is also available. Single tickets, not including handling and tax, are $40 or $38 for adults, $35 or $33 for seniors, and students — 21 and under — for $20 or $17. Tickets can be purchased online at topekasymphony.org or by calling the symphony office, 785-232-2032.
Funding for this concert is provided by Capitol Federal Foundation. Media sponsors for this concert are KSNT and the Topeka Capital Journal.
The Topeka Symphony is sponsored in part by Washburn University.
Photos available upon request.