November 2, 2021
Internationally renowned vibraphone artist on campus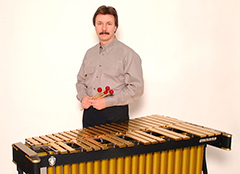 International vibraphone artist Jerry Tachoir will be on campus on Nov. 2 for performance, clinic and master class sessions.
Tachoir was the first recipient of a bachelor's in applied music for the vibraphone and mallet instruments, with extensive studies in arranging and composition. At 11:30 a.m., he will present a clinic/performance with pianist/composer Marlene Tachoir at the Marianna Kistler Beach Museum of Art. Also, he will present a master class for a jazz theory and improvisation class at 1:30 p.m. in 105 McCain Auditorium.
He also will teach K-State students in private lessons.