October 29, 2021
Architecture professor elected chair of Kansas State Board of Technical Professions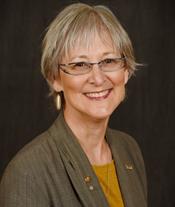 Wendy Ornelas, professor of architecture in the College of Architecture, Planning & Design, or APDesign, at Kansas State University was recently elected as chair of the Kansas State Board of Technical Professions. Ornelas was appointed to the board by former Gov. Jeff Colyer in 2018.
The Kansas State Board of Technical Professions is a combined board that represents professional engineering, architecture, landscape architecture, surveying and geology. The board was combined in 1976 for four professions, with geology being added in 2000. The original board was comprised of nine members in 1993 and has increased in size to the present thirteen members.
Previous Kansas State University faculty elected to the chair position include Gus Fairbanks, professor of agricultural engineering; Don Rathbone, former dean of engineering; and William "Chip" Winslow, professor of landscape architecture.
Ornelas earned a Bachelor of Science in architecture from California Polytechnic State University, San Luis Obispo, and a master's from Oklahoma State University.
From 2012-2014 Ornelas served as the Central States regional director for the American Institute of Architects, or AIA, and co-chair of AIA National's Diversity and Inclusion Council. She has also been active with other architectural collateral organizations, including the National Architectural Accrediting Board, serving as its president 2009-2010; she was the West Central Regional Director for the Association of Collegiate Schools of Architecture, or ACSA; in 2005 Ornelas was elevated to AIA's College of Fellows, and in 2013 she was named a distinguished professor of ACSA. In 2015 she received the AIA Richard Upjohn Fellowship for her service on the AIA's national board.
The mission of the board is to provide maximum protection of the health, safety, property and welfare of the people of Kansas by assuring that the practice of architecture, engineering, geology, landscape architecture and land surveying in the state is carried out only by those persons who are proven to be qualified as prescribed by the statutes and rules and regulations of the Board of Technical Professions.