October 29, 2021
'Frankenstein' Lightning Lectures hosted by K-State English department tonight
Submitted by Jerry Jay Cranford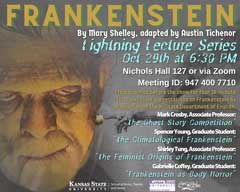 Tonight, before the Friday, Oct. 29, performance of K-State Theatre's "Frankenstein," the K-State English department will present four 10-minute Lightning Lectures beginning at 6:30 p.m. in 127 Nichols Hall. Join us in the spooky room where the topics and speakers will be:
Mark Crosby, associate professor: "The Ghost Story Competition."
Spencer Young, graduate student: "The Climatological Frankenstein."
Shirley Tung, associate professor: "The Feminist Origins of Frankenstein."
Gabrielle Coffey, graduate student: "Frankenstein as Body Horror."
You can also join via Zoom with meeting ID: 947 400 7710.
"Frankenstein" performs through Nov. 7 on the Chapman Stage in Nichols Hall. View ticket information.