October 25, 2021
NYC Commissioner Mitchell J. Silver to present 'The Future of Parks and Public Space: What's Next?'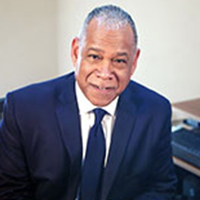 Commissioner Mitchell J. Silver will present "The Future of Parks and Public Space: What's Next?" as part of the 2021-2022 College of Architecture, Planning & Design's Ekdahl Lecture Series at 4:30 p.m. Wednesday, Oct. 27, in the Regnier Forum at Regnier Hall on the Manhattan campus. The event is free and open to the public.
In this lecture, Silver explains that "Parks and public spaces are vital to the livability of cities. As the country urbanizes and demographics of the American population shifts, parks and public spaces are gaining greater importance as places for physical health, mental health and social interaction." Silver continues, "The global pandemic and the social unrest have exposed inequities in our communities that have existed for generations. As we plan and design for the future, how can we create more equitable, inclusive and accessible places?"
Silver joined the leadership team of McAdams as vice president of urban planning in June 2021. He is responsible for providing advisory services in urban planning, land use, parks and public space planning with an emphasis on diversity, equity and inclusion. Silver serves as an ambassador and leader for the company in regional and national organizations and events. He is the current president of the American Institute of Certified Planners and former president of the American Planning Association. Before joining McAdams, Silver served as the New York City parks commissioner, overseeing more than 30,000 acres of parkland.
When Mayor Bill de Blasio named Silver as New York City's parks commissioner, he called him a visionary. The mayor went on to say: "He has a passion for fairness and equality. He understands that we have to ensure that parks and open spaces are available in every community and are well-maintained in every neighborhood in this city." At NYC Parks, Silver streamlined the capital process by six months allowing the public to enjoy renovated parks sooner. He introduced a new public realm strategy called "Parks without Borders," launched a capital project tracking system and initiated a Framework for an Equitable Future to improve the parks system that included a $318 million campaign to transform 67 of the city's most neglected parks. The $50 million "Parks Without Borders" program earned national and international recognition for its innovative approach to urban design and helped make parks safer and more accessible. Both the Community Parks Initiative and Parks Without Borders is being replicated in the United States and abroad.
Silver is one of the nation's most celebrated urban thinkers. He was selected to Planetizen's list of the 100 Most Influential Urbanists in the world. In addition, he has been honored as one of the top 100 City Innovators in the world by UBM Future Cities and the Urban Times named him one of the top international thought leaders of the built environment. In 2017, Silver was selected to be an honorary member of the American Society of Landscape Architects.
View a full listing of the 2021-2022 Ekdahl Lectures and the previously recorded lectures.

The Oscar S. Ekdahl Distinguished Lecture Series in Architecture and Design brings the finest professionals in the design and planning disciplines to APDesign and the K-State community. These individuals are selected to avail faculty, staff, students and regional professionals of the potency of design and planning in addressing the issues we face as a global society. The series honors Oscar Ekdahl, who received his Bachelor of Architecture from Kansas State University in 1933 and was a founding partner in Ekdahl, Davis, Depew, Persson Architects PA in Topeka.