October 5, 2021
Gates Capital Management Center for Financial Analysis now accepting applications for K-State Finance Scholars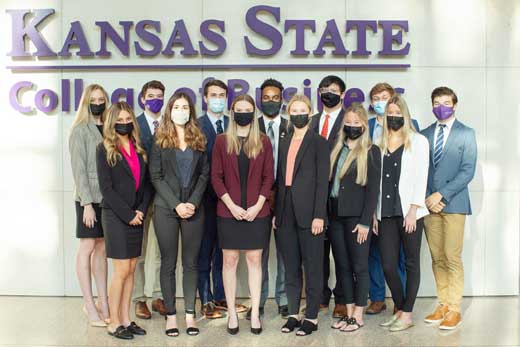 The K-State Finance Scholars Program is for high-achieving undergraduate students interested in pursuing a career in investment banking, asset management, private equity, or financial management. These professions are some of the most competitive and provide exciting opportunities in the business world. The program is a selective one for top students and provides a clear path to success in investment management.
Students in the program can expect one-on-one career coaching, weekly workshop meetings, exclusive networking events with finance alumni, trips to financial hubs such as New York City and Minneapolis, industry training, soft-skill development and more. The program is designed to make students competitive candidates for internships and full-time careers.
Students are admitted into the Finance Scholars Program on an application basis. Following the initial application, the faculty invites prospective students to a professional interview to learn more about them. Students are also invited to take an entrance exam to test their quantitative, economics and finance knowledge.
Applications are being accepted now until Oct. 15. Find out more here and apply online. Learn more about the program at an info session this week on Friday, Oct. 8. The session will be at 9 a.m. in the Business Building Executive Boardroom, Room 4061.
For questions about applying or to learn more about the program, contact Sabuhi Sardarli, director for the Gates Capital Management Center for Financial Analysis, at kstatecfa@k-state.edu.