March 26, 2013
Workshop for 2013 common book selection on April 11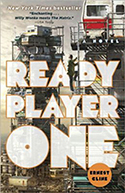 Wondering how you can incorporate the 2013 common book selection into your work with students this fall?
On Thursday, April 11, the K-State Book Network, or KSBN, will host a workshop and reception for faculty, staff, graduate teaching assistants and student leaders to discuss how Ernest Cline's "Ready Player One" can be part of coursework and event programming.
Tara Coleman, co-chair of the K-State Book Network, and other members will share resources for Cline's book and lead small group discussions on key themes, including identity, community, sustainability and the environment, game-playing and popular culture.
The workshop will take place from 11:30 a.m. to 12:30 p.m. April 11 in Room 207 of the K-State Student Union. Refreshments will be served. Please RSVP by April 10 to reserve a seat and an opportunity to receive a copy of "Ready Player One" at the workshop.
A similar session will be scheduled for the Salina campus in late April.
For more information about Cline's book or the K-State Book Network visit the KSBN website.