March 26, 2013
Remember to visit research forum Wednesday to see student work
Submitted by Communications and Marketing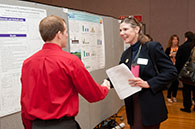 Don't miss the opportunity to learn about the research and scholarly activities of K-State undergraduate and graduate students from a variety of disciplines.
The Graduate Student Council Research Forum is Wednesday on the second floor of the K-State Student Union. Oral and poster presentation sessions will begin at 9 a.m. and end during the 3 p.m. hour.
Read the previous K-State Today article for details.