March 8, 2013
Frank Tracz inducted into the American Bandmasters Association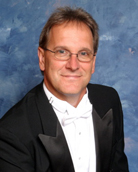 Frank Tracz, director of bands at Kansas State University, has been formally inducted into the American Bandmasters Association at its annual conference in Tamapa, Fla.
Founded by Edwin F. Goldman in 1929, with John Philip Sousa as the only honorary life president, the American Bandmasters Association recognizes outstanding achievement on the part of concert band conductors and composers. The membership is by invitation only and comprises approximately 300 band conductors and composers in the U.S. and Canada. The organization seeks to promote the growth of artistic repertoire for band and to continually strive for the highest standard of artistic excellence.
"We are excited and proud to announce that K-State's own Frank Tracz is now a member of this prestigious and elite organization," said Andrew Feyes. "The attainment of his position in the ABA marks the single highest honor that members of our profession can bestow upon each other."