March 8, 2013
Kerstetter to perform in Hale Library recital series tonight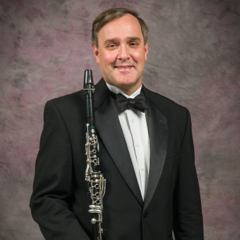 K-State faculty clarinetist Tod Kerstetter will perform a recital 7:30 tonight in Hale Library's Hemisphere Room. Kerstetter will perform Aaron Copland's renowned clarinet concerto, along with selections by Darius Milhaud, Eric Dolphy, Louis Cahuzac and Wichita-born composer Kirke Mechem. K-State's Amanda Arrington, staff accompanist, will perform on the piano, and K-State music faculty members Amy Rosine, a soprano, and Jacqueline Fassler-Kerstetter will also be featured on the Mechem selection.
Kerstetter has been a K-State music faculty member for 14 years. In spring 2012, he was elected to serve on the executive board of the International Clarinet Association as treasurer. Kerstetter has performed at the International Clarinet Association's recent international conventions in Los Angeles, Calif., and Lincoln, Neb. This summer he has been invited to perform at the 2013 convention in Assisi, Italy. At this convention, Kerstetter will perform the premiere of a new work by K-State faculty composer Craig Weston.
Contact Mary Ellen Titus at rtitus@k-state.edu for more information on the Hale Library recital series.