November 9, 2011
Music professor performs at national conference, tours several states and Canada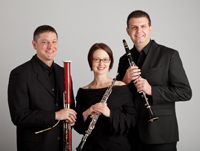 Nora Lewis, assistant professor of music, presented the recital, "Trio d'Anches and Concentric Parisian Circles" with the PEN Trio on Oct. 21 at the 54th national conference of the College Music Society in Richmond, Va.
The performance featured music by Joseph Canteloube and Georges Auric. The PEN Trio is oboist Lewis; clarinetist Phillip O. Paglialonga, assistant professor of clarinet at Bethune-Cookman University; and Eric Van der Veer Varner, instructor of bassoon at Heidelberg University and principal bassoon of the Windsor Symphony.
In September and October, the PEN Trio toured the Great Lakes region and Virginia to give guest artist recitals and master classes at the University of Michigan, University of Windsor in Ontario, Bowling Green State University, Oakland University, Grand Valley State University, Eastern Michigan University, Western Michigan University, George Mason University, Virginia Tech, Shenandoah Conservatory and Radford University. At Radford, the PEN Trio premiered the piece "In Threes" by composer and Radford alumnus, M. Shawn Hundley. In Michigan, the ensemble was featured in a live recital broadcast for Blue Lake Public Radio WBLU 88.9 and WBLV 90.3 and on the public radio program "In Concert," broadcast on WMUK 102.1 in Kalamazoo.