November 9, 2011
Dave Fritchen: Why I support the All-University Campaign
Submitted by Susan Wolf Berhow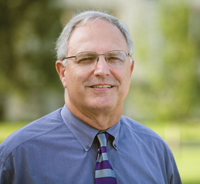 Why do K-State faculty and staff support the All-University Campaign? The answers are as varied as the people themselves.
For David Fritchen, professor and department head of architectural engineering and construction science, it's a way to show his purple pride.
"The All-University Campaign is our annual opportunity for the entire campus community to demonstrate our 'purple pride' and commitment to Kansas State University," he said. "Our individual participation sends a very strong message to everyone outside the university that we too are engaged in supporting K-State through our willingness to give back to advance this great university."
Fritchen's support of the campaign isn't limited to giving. He's also in his second year serving as co-chair of the campaign.
Time is running out to make your participation count for the 2011 campaign! Make your gift online or submit a giving form through campus mail by Friday, Nov. 11. Visit the All-University Campaign website for more information.