November 9, 2011
Faculty/staff: Try new-tech 'ultra short throw' projector through Nov. 18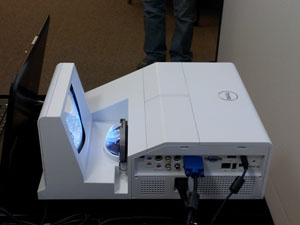 The Information Technology Assistance Center has set up a Dell "ultra short throw" projector as a temporary demonstration model for faculty/staff to see the possibilities of this new technology. The Dell S500WI Interactive Ultra Short Throw Projector brings a new kind of interaction to the classroom.
Interactive projection on almost any surface
Off-surface interactivity from up to 29.5 feet away
A sharp, clear picture from the WXGA native resolution (1280 x 800) and 16:10 aspect ratio, which supports 720p HD resolution
Wireless functionality and many advanced features such as Multi-PC session, 4-to-1 split screen, USB plug-and-show, USB viewer, PtG converter, and audio projection
iTAC encourages faculty/staff to come by and give this projector a test drive. The unit is available through Friday, Nov. 18, in the hallway next to the Media Development Center. No reservations needed; just walk in and ask the iTAC receptionist in Hale 214 for the interactive pen that works with the unit.
Questions should be sent to Ernie Perez, ern@k-state.edu.