April 13, 2021
Annual Conquest magazine showcases K-State cancer researchers and partners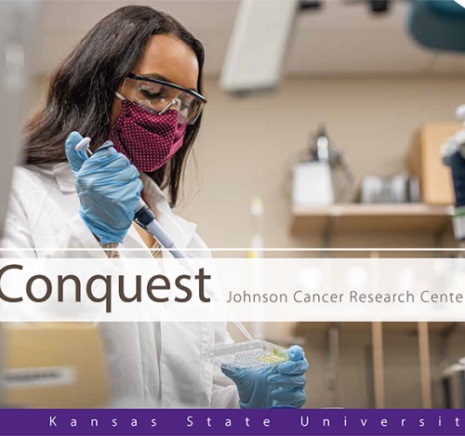 See how K-State is fighting cancer in the 2021 Conquest magazine published by the Johnson Cancer Research Center. Inside you'll find layperson-friendly stories spotlighting faculty and student researchers and other partners in the fight.
Read about:
A biologist studying cell movement to help develop new brain cancer treatments.
A biochemistry student working to kill cancer cells.
A biomedical engineer developing energy-based alternatives to tumor surgery.
A K-State alumna whose student research experience helped her become an OB-GYN.
A veterinary oncologist fighting cancer in pets.
A four-time cancer survivor making life a little easier for cancer patients.
A couple's legacy supporting breast cancer research in biochemistry.
Find this and past issues of Conquest on the Johnson Cancer Research Center's website.