April 13, 2021
'Are You Smarter Than a Freshman?' airs April 17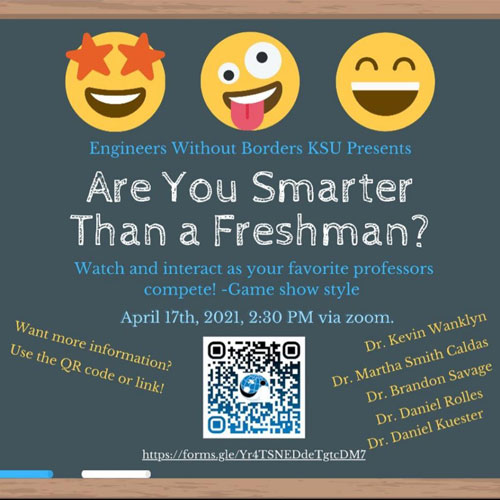 Tune in to K-State's season premiere of "Are You Smarter Than a Freshman?" airing at 2:30 p.m. Saturday, April 17, via Zoom.
The event, hosted by Engineers Without Borders, a registered departmental student organization, will pit professors against one another to see who is most up to date on youth culture. Watch live via Zoom as our hosts test your favorite professors on their knowledge of Gen Z with fun trivia. From pop culture to internet trends, there will be lots of hilarious and memorable moments.
In addition, you will have the opportunity to affect the outcome. Our moderators will take some of the questions straight from our audience before the show begins. All you have to do is submit your question beforehand via the form below. Other rounds will go beyond simple trivia and require professors to guess how K-State students responded to questions. These answers will be decided live via online polling of the audience.
The event also is a fundraiser for the organization and participants will have the opportunity to learn about Engineers Without Borders' projects and donate.
Register to attend or submit a question via the online form.
To see which professors are competing, the Engineers Without Borders' Instagram page: ksuewb. We look forward to seeing you on April 17.