April 2, 2021
Doctoral candidate in biology receives Sarachek Predoctoral Honors Fellowship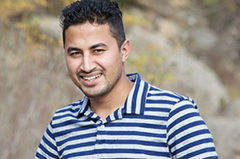 Anil Pant, doctoral candidate in biology, Nepal, was awarded the $17,600 Alvin and RosaLee Sarachek Predoctoral Honors Fellowship in Molecular Biology.
Alvin and RosaLee Sarachek, Wichita, established the fellowship to recognize a doctoral student at Kansas State University who has demonstrated exceptional research and scholastic accomplishments. An interdisciplinary faculty selection committee determines the fellowship and award recipients. The awards program is offered through the university's Graduate School.

The primary focus of Pant's research is to understand how vaccinia virus infection repurposes the nutrient resources of host cells to support optimal viral replication. Vaccinia virus was used as a live vaccine to eradicate smallpox and is still used as a model to study infections caused by other members of the poxvirus family that cause significant morbidity and mortality in humans and economically important animals. Vaccinia virus is also used as an agent for cancer therapy and the development of vaccines against diseases such as HIV/AIDS, Ebola, influenza, MERS/SARS-coronavirus.

Pant's research has identified metabolic weaknesses in the poxvirus lifecycle that could be targeted to develop efficient anti-poxviral therapies. His work has also identified key virus and host factors that interact at the interface of metabolism, which could lead to the development of novel strategies for the advancement of poxvirus-based tools for vaccine development and cancer treatment. Zhilong Yang, associate professor of biology, is Pant's major professor.

Pant received his bachelor's and master's degrees in medical microbiology from Tribhuvan University in Kathmandu, Nepal. Upon completion of his doctoral degree, he will use the Sarachek fellowship to support the next stage of his career as a postdoctoral researcher. He intends to continue his research in the field of metabolism to get a better understanding of the mechanism of cancer causation and broaden his understanding of why tumor cells have a greater dependence on specific enzymes and/or nutrients than normal cells. Pant hopes that his contribution to science will someday provide avenues to develop effective anti-cancer therapies.

The fellowship is made possible through generous annual expendable gifts to the KSU Foundation by the late Alvin Sarachek and his wife RosaLee. Alvin Sarachek received his doctorate in genetics from Kansas State University in 1957. The Saracheks valued the university's tradition of offering a broad array of quality programs in the life sciences, many with outstanding national reputations. They created the fellowship because they wanted to contribute to this tradition of excellence by recognizing students who have demonstrated exceptional research accomplishments involving molecular approaches to biological problems.

More information on the Sarachek awards is available on the Graduate School website.