March 4, 2013
Innovations in Teaching and Learning conference today and tomorrow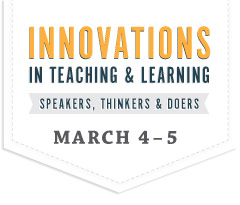 The Innovations in Teaching and Learning conference begins today in the K-State Student Union. Walk-up registration is available. The schedule for this two-day conference includes:
Monday, March 4:
1-5 p.m., Instructional Game Design 2.0 workshop in the Alumni Center Banquet Room C

1:30-4:30 p.m., workshops about popular tools used at K-State Student Union rooms Big 12, Flint Hills, 227 and Forum Hall
Tuesday, March 5:
8:45-10:15 a.m., keynote presented by Emmy Award-winning New York Times columnist David Pogue in the Union's Forum Hall
10:30 a.m. to 1 p.m., showcase of more than 40 of your peers and vendors demonstrating their use of technology in the classroom
10:45 a.m. and 11:45 a.m., mini-presentations in the Union Flint Hills Room
11:30 a.m. to 1 p.m., light lunch in the Union Cottonwood Room
1:30-3 p.m., Digital Photography by David Pogue in the Alumni Center Banquet Room
View the full conference schedule. For questions contact Cathy Rodriguez at cathyr@k-state.edu or 785-532-5977.