March 4, 2013
K-State Football faculty, staff season tickets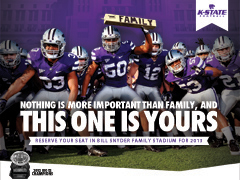 Following a Big 12 Championship season in 2012 that included a No. 1 BCS national ranking and a berth in the Tostitos Fiesta Bowl, excitement is building for K-State's 2013 football season and the opening of the new West Stadium Center at Bill Snyder Family Stadium.
Season tickets are on sale now exclusively online, including faculty and staff discounted tickets.
Faculty and staff can also use the payroll deduction option to spread their ticket costs over multiple pay periods. Enroll by Friday, March 8, to spread payments over 10 paychecks, or by Friday, March 22, to spread payments over nine paychecks.