November 18, 2020
Phi Beta Kappa 2020 initiates to be honored in virtual ceremony
Submitted by Office of International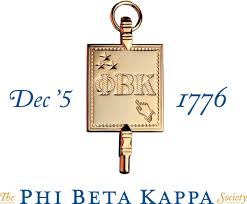 The Beta of Kansas, K-State, Chapter of Phi Beta Kappa will honor the spring 2020 initiates in a virtual ceremony on Wednesday, Nov. 18.
New members include Chloe Elizabeth Alexander, Juliana Ames, Sabrina Rose Cline, Ariana Christine Coker, Jonah M. Evarts, Alexis Fenton, Aubrey Gilchrist, Kade Grafel, Rebekah Hutchison, Clayton James Jarrard, Angela Kay, Jarrod Kuckelman, Mariah O'Neil Larson, Aaron Middaugh, Sarah Marie Middendorf, William Henry Moore, Elizabeth Anne Mulholland, Carolyn Osbern, Haley Marie Petersen and Haley Jo Ann Reiners.
The event will be open to the initiates, their guests, and PBK chapter members only. Typically, the annual initiation ceremony takes place in April, but it was canceled in 2020 because of the COVID-19 pandemic.
Phi Beta Kappa is the nation's oldest and most prestigious academic honor society and has more than 500,000 members. Since its founding at the College of William and Mary in Williamsburg, Virginia in 1776, the society has fostered and recognized excellence in the liberal arts and sciences, and its gold key is widely recognized as a symbol of academic distinction. The Beta of Kansas — K-State — chapter has existed since 1974.