McCain Connected: Stream, watch on demand Darlene Love's 'Love for the Holidays'
Wednesday, Nov. 18, 2020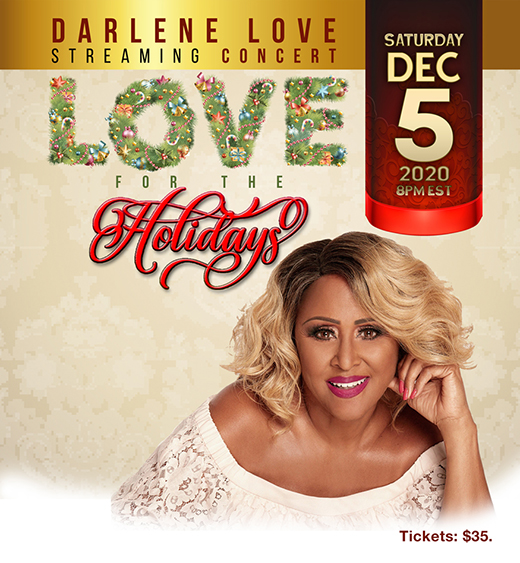 Stream music icon Darlene Love's "Love for the Holidays" show live or watch on demand through Kansas State University's McCain Connected Series. Tickets are available now. | Download this photo.
MANHATTAN — Kansas State University's McCain Connected Series invites you to enjoy a one-time-only holiday performance from holiday favorite Darlene Love, live from Sony Hall in New York City at 7 p.m. Saturday, Dec. 5.

Catch the music icon spreading holiday cheer in "Love for the Holidays." Streaming tickets are on sale for $35. Watch live from the comfort of your own home or watch on-demand for 48 hours after showtime. A portion of your ticket will help support McCain Auditorium.

Tickets are not available through McCain Auditorium directly. Tickets can be purchased at showclix.com/tickets/darlene-love-mccain.The ticket link can also be found on McCain Auditorium's website, mccain.k-state.edu, and it's Facebook and YouTube Channel.
A Grammy Award winner and Rock & Roll Hall of Famer, Love has l been recognized as "one of the greatest singers of all-time" by Rolling Stone magazine. The New York Times raves: "Darlene Love's thunderbolt voice is as embedded in the history of rock and roll as Eric Clapton's guitar or Bob Dylan's lyrics."

Through the years, Love has continued to captivate audiences worldwide with her warm, gracious stage presence and performances. Her voice is behind dozens of hits, including "He's a Rebel," "(Today I Met) The Boy I'm Gonna Marry," "Marshmallow World" and her signature song, "Christmas (Baby Please Come Home)." This holiday season, the music icon will bring these classics and more for a one-night-only holiday performance. It's a rockin' Christmas celebration you won't want to miss.