November 18, 2020
President Myers gives thanks
Submitted by President Richard Myers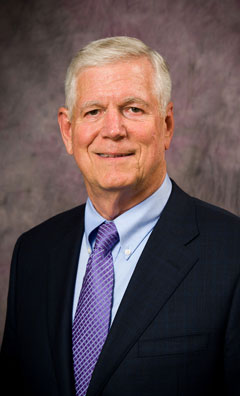 Dear K-State community:
This week marks the end of in-person instruction for the fall semester. You have worked hard to deliver quality instruction and learning in trying times. This inspirational effort deserves much praise as we enter the season of Thanksgiving.
As the fall break approaches, we are once again in the throes of a significant increase in COVID-19 cases throughout our local communities, state and country. The virus is a cold, hard foe that does not take breaks or holidays. We've collectively learned that it takes the advantage every time we let our guard down.
As we monitor this situation there are several key indicators that are going the wrong way. Positive cases are rising faster than before, positivity rates have reversed their decline in dramatic fashion, and we are seeing strains on the health care system throughout the state. We continue to work closely with public health officials as the situation is changing rapidly.
One bright spot has been that we are still not seeing the virus spread on our campuses, based on contact tracing. To date, there have not been outbreaks associated with classrooms, laboratories, or other academic endeavors. This is surely due to the efforts our faculty, staff and students have made.
Currently, the largest concern is community spreading within smaller gatherings as people let their guard down when around family and friends. Students are being encouraged to get tested for COVID-19 prior to returning home for fall break. We should all be aware of the increased risks of holiday gatherings and take the necessary precautions.
Once again, as we enter the Thanksgiving holiday, I want to sincerely thank you for the tremendous efforts put forth this semester. Please take time to reflect on what has been accomplished by us all. We are in a remarkable time and once again, K-Staters have shown they are remarkable people.
Stay safe!
Richard B. Myers
President