February 4, 2013
Memorial service scheduled Saturday for Alok Bhandari
Submitted by Communications and Marketing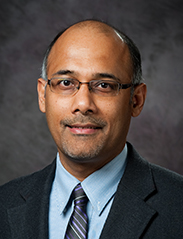 A memorial service for Alok Bhandari will be at 3 p.m. Saturday, Feb. 9, in All Faiths Chapel. A reception will follow in the atrium of the Engineering Complex.
Bhandari, age 44, served as the head of the department of civil engineering and was the Dr. Robert Snell Alumni Professor.
Bhandari was the founding director of the Urban Water Institute at Kansas State University Olathe. He also was the recipient of the National Science Foundation's CAREER award, the Kansas-Science to Achieve Results (K-STAR) First Award, and Virginia Tech Civil Engineering's Outstanding Young Alumni Achievement Award.
Bhandari died Jan. 30 from cancer.
An obituary for Bhandari can be read online.