February 4, 2013
Friends of the K-State Libraries host behind-the-scenes tour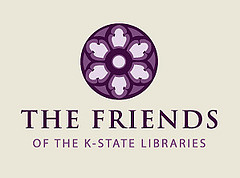 The Friends of the K-State Libraries are hosting a special behind-the-scenes tour of K-State Libraries' Richard L. D. and Marjorie J. Morse Department of Special Collections from 5-6:30 p.m. Wednesday, Feb. 6, as part of the group's annual membership drive. The event is open to members only, but K-State faculty and staff who are not currently members can join by sending in a membership gift prior to Feb. 6 or bring it to the event for entrance.
Members will be treated to a reception in Hale Library's fifth floor gallery featuring the new exhibit "Generations of Success: K-State History in Special Collections" and exclusive tours in the closed stacks of Special Collections, normally only accessible to Libraries' staff.
The Friends of the K-State Libraries are a philanthropic organization dedicated to strengthening Kansas State University's library system, especially important in light of K-State 2025 goals. During 2012, Friends' initiatives provided furnishings for the new graduate student study space in Hale Library, sponsorship for lectures and receptions, and helped fund digitization of archival materials in support of the sesquicentennial celebration. For more information about the Friends or this event contact Darchelle Martin.