February 4, 2013
Hightower featured at 'Dancing with the K-State Stars'
Submitted by Audrey Taggart-Kagdis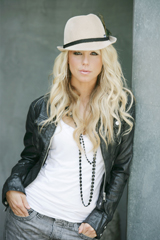 Get ready to groove with Union Program Council, or UPC, and "Dancing with the Stars" professional Chelsie Hightower at the fifth annual "Dancing with the K-State Stars." The competition pairs K-State "stars" with dance professionals in a dance-off for the coveted mirror ball trophy.
For season five of "Dancing with the K-State Stars," Union Program Council will host Hightower as a guest performer and competition judge along with professional dance partner Sasha Farber and David Ollington, associate professor in the School of Music, Theatre, and Dance. Hightower has been dancing as a "Dancing with the Stars" professional for seven out of the last eight seasons of the show. The dance veteran was also a competitor on the fourth season of the hit show, "So You Think You Can Dance," making it to the top six.
K-State dance couples spend several hours preparing their two-minute routines, choreographed by the dance professional. The audience will see performances by K-State students and faculty ranging from the merengue to country swing, from East Coast swing and salsa to the waltz and West Coast swing, as well as a featured performance from Hightower and Farber.
This year's class includes Grant Hill, student body vice president; Ross Jensby, student senator, tuba player in the K-State marching band and UPC entertainment co-chair; Blair Kocher, K-State admissions representative; Emilee Taylor, speaker of the student senate and Courtney Traxson, K-State volleyball player. The professionals include Lexi Casey, Karla Comacho-Godoy, Janet Galloway, Jeremy Kemberling, Mike Offerman and Chris Zimmerman.
Performances begin at 7:30 p.m. Feb. 4 in McCain Auditorium. Hightower will have a meet-and-greet immediately following the show. Tickets to the dance competition are free for K-State students and $5 for non-students. Tickets for the meet-and-greet with Hightower are $5. Taxes and fees apply. To get tickets, visit the McCain box office or call 785-532-6428.
For more information and a complete list of all UPC activities, visit k-state.edu/upc or call the UPC office at 785-532-6571.