May 15, 2020
Associate professor of history Charles W. Sanders Jr. retires May 17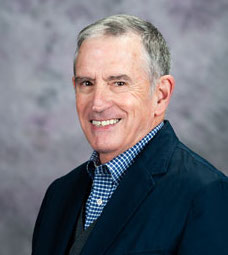 Charles W. Sanders Jr., associate professor of history, will retire on May 17 after 20 years of teaching, research and service to the department.
Sanders, whose scholarly expertise lays in the Jacksonian and Civil War eras of 19th-century U.S. history, earned his doctorate from K-State in 2001 after serving for 25 years as an infantry officer in the U.S. Army and retiring at the rank of colonel. He completed his dissertation under the supervision of Peter Knupfer, whose retirement from K-State created the opportunity for Sanders to join the faculty upon his dissertation's completion. Sanders' first book, "While in the Hands of the Enemy: Military Prisons of the American Civil War," 2005, was based on that dissertation and won the Jefferson Davis Prize for New Scholarship in the Era of the Civil War.
Sanders is deeply passionate about teaching and committed to facilitating the success of his students at all levels. At K-State, he taught a wide array of classes on 19th-century U.S. history, including courses on the Early National and Jacksonian eras, Civil War and Reconstruction, the Gilded Age, Manifest Destiny and American Imperialism. He built a well-deserved reputation as a gifted and engaging instructor with a talent for making history come alive. He'd bring his Civil War-era medical kit to class, for example, solicit a student volunteer and give a demonstration of how to amputate a leg while on the field of battle. Students in his freshmen-level introductory survey who entered his class disinterested in history often finished the class determined to enroll in one of his more specialized upper-division courses. He inspired several students in those upper-division courses to pursue graduate study in history, many of whom remained at K-State for their master's so they could be further mentored by Sanders.
Over the course of his career, he received numerous awards for excellence in undergraduate teaching, as well as awards advising and mentoring students and student organizations. He worked as the chair for the Undergraduate Scholarship Committee and dedicated that service to providing students with the funds necessary to continue their education in a discipline that he believed was more than worthy. He mentored incoming graduate students on how to be effective classroom teachers and leaders, and was the major professor for many graduate students.
Sanders now heads into retirement working toward the completion of a new book, "Brawlers for Liberty: A Social History of the Battle of New Orleans."