March 23, 2020
We are #kstatestrong.
Submitted by Division of Communications and Marketing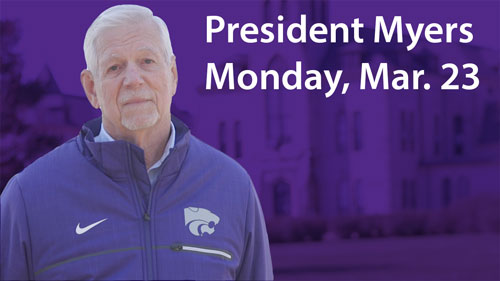 We find ourselves in a difficult and unprecedented time. We are away from our K-State family, away from our friends and away from a spot we love full well. But no one is alone because we are in this together. Be encouraged. Be #kstatestrong.
Watch a #kstatestrong video with Kansas State University President Richard Myers, who offers words of encouragement during this difficult time.
There will be new videos with new K-Staters every day in K-State Today. You can watch all the videos at k-state.edu/kstatestrong.
The Division of Communications and Marketing is collecting videos and photos of encouragement from K-Staters. Share your own video or photo on social media and use the hashtag to shows us how you are #kstatestrong. We may feature it on the website or K-State social media channels.