November 27, 2012
All-University Campaign breaks records with 42 percent participation
Submitted by Susan Wolf Berhow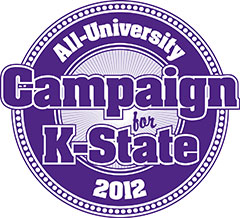 Thank you to all who participated in the 2012 All-University Campaign for K-State! A record-breaking 42 percent of faculty and staff participated this year. And that's just one number we're excited to share with you. Here are a few more:
2,100 faculty and staff made a gift this year
51 made a gift through payroll deduction
215 made a gift for the first time
More than $1.3 million were raised during the 2012 campaign
The All-University Campaign is just one way K-State faculty and staff have a direct impact on the university's goal of becoming a Top 50 research university by 2025. When K-State faculty and staff participate in the campaign annually, it sends a positive message of commitment to the friends, corporate partners and alumni who are willing to invest in our university.
We'd like to thank the campaign's outstanding volunteers for their work this year. Also, we'd like to congratulate the following work groups for matching or exceeding their participation rates from last year:
Administration and Finance
Alumni Association
Athletics
College of Agriculture
College of Business Administration
College of Architecture, Planning and Design
College of Arts and Sciences
College of Engineering
College of Human Ecology
Communications and Marketing
Continuing Education
Facilities
Information Technology Services
K-State Salina
K-State Olathe
KSU Foundation
President and Provost Offices
Research and Sponsored Programs
School of Leadership Studies
Student Life
Thank you for an outstanding year! To see final participation results by work group, click here.