November 27, 2012
Donnelly teaches, K-State dancers perform at Kansas Dance Festival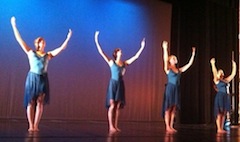 Laura Donnelly, assistant professor in the School of Music, Theatre, and Dance, took 10 members of the K-State Dance Ensemble to Wichita Nov. 16-17 to participate in master classes and perform as part of the Kansas Dance Festival.
Annually hosted by Wichita State University, the festival provides opportunities for dancers to meet and work with their peers as well as allows faculty members to share best practices. Donnelly taught Alexander Technique for Dancers.
Mary Byram, Meredith Olds, Sara Morgan and Jordan Roberts performed "Adagio for Four," and Emily Barnhill, Carolyn Fitzgibbons, Jordan McGuinn, Skylar Parrott, Eryka Stabel and Laura Vallejo performed "Adagio for Six."
Both dances were choreographed by Donnelly and can be seen as part of the WinterDance, Nov. 29-Dec. 1. For tickets call 785-532-6428.