November 27, 2012
Fiction writer Lauren Groff reads from her work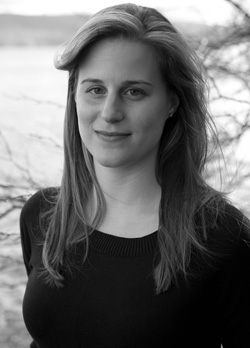 At 3:30 p.m. Friday, Nov. 30, fiction writer Lauren Groff will read from her work in the K-State Student Union Little Theatre. It is free and open to the public.
Groff's first novel, "The Monsters of Templeton," was a New York Times Editors' Choice selection and best-seller. It was also shortlisted for the Orange Prize for New Writers. Groff's new novel, "Arcadia," tells the story of the first child born in a fictional 1960s commune in upstate New York. It has received favorable reviews from the New York Times Sunday Book Review, the Washington Post, and Publisher's Weekly, among others.
"Lauren Groff's work is driven by poetic language and a commitment to transformative story telling," said Dan Hoyt, assistant professor of English and director of the program in creative writing. "She sends her characters and her readers on a journey toward change, toward adaptation, toward meaning, and she often invokes the idea of myth, which lends an epic sense to her characters' everyday lives."
In addition to novels, Groff writes short fiction and has published a story collection, "Delicate Edible Birds." Groff's short stories have appeared in magazines such as The New Yorker, The Atlantic Monthly, Ploughshares, and have been anthologized in The Best American Short Stories 2007 and 2010 and the PEN/O.Henry Prize Stories.
Lauren Groff graduated from Amherst College and has an Master of Fine Arts in fiction from the University of Wisconsin-Madison. She was awarded the Axton Fellowship in Fiction at the University of Louisville and she has had residencies and fellowships at Yaddo, Bread Loaf Writers' Conference, the Vermont Studio Center and Ragdale. She lives in Gainesville, Fla., with her husband and two sons.
The reading is sponsored by the department of English, Creative Writing Enthusiasts, or CreWE, and the department of women's studies. For more information, visit http://www.k-state.edu/english or contact english@k-state.edu.