January 29, 2020
Theatre professor guest star appearance on History Channel program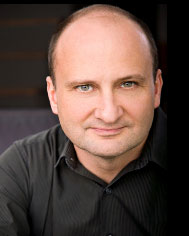 David Mackay, assistant professor of theatre, appeared in the second episode on the TV series "Project Blue Book" on the History Channel.
Mackay plays a mortician who also moonlights as an ambulance driver in Roswell, New Mexico, circa 1950. The series is based on the real-life "Project Blue Book," a series of studies on unidentified flying objects conducted by the United States Air Force. The episode aired on Jan. 28 and episodes can be viewed online.
Faculty in the School of Music, Theatre, and Dance have received Grammy awards and nominations, and Emmy awards; produced recordings on international and national CD labels and published books and journal articles with international and national publishing houses and professional organizations; and performed and presented research in every continent in the world, except Antarctica. The School of Music, Theatre, and Dance is a part of the College of Arts and Sciences. Visit its website to learn more about music, theatre and dance at K-State.