January 8, 2020
Marcella Reekie recognized as Professor of the Week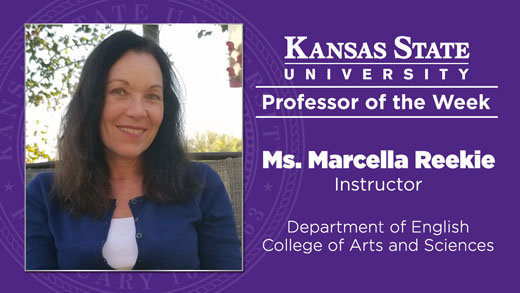 Marcella Reekie, an instructor in the English department in the College of Arts and Sciences, was recognized as Professor of the Week at the Jan. 7 men's home basketball game.
Reekie teaches Written Communications for Engineers, which prepares upper-level engineering students to gather, use, and present technical information in a professional setting. She received an Open/Alternative Textbook grant to develop a free textbook for the course — it now has more than 7,500 downloads, including global.
In addition to her teaching, she serves on technical writing and award committees. Over the years, 49 of her students have won first, second, or third place in the Technical Writing competition, and her student won the Kirmser grand prize in this year's non-freshman category. She is also a recipient of the English department's faculty award for excellence in undergraduate teaching. She is a recipient of the 2019 Commerce Bank and W.T. Kemper Foundation Undergraduate Outstanding Teaching Award.
The Professor of the Week recognition is coordinated by Faculty Senate, the president's office, K-State Athletics and the Division of Communications and Marketing. Recipients are faculty members selected by Faculty Senate caucuses. Those selected are provided tickets to a men's home basketball game of their choosing and are recognized during halftime. This is a small token of appreciation for those who teach at K-State.