December 5, 2019
Jessica Harrington named new student engagement coordinator for Health and Human Sciences
Submitted by College of Health and Human Sciences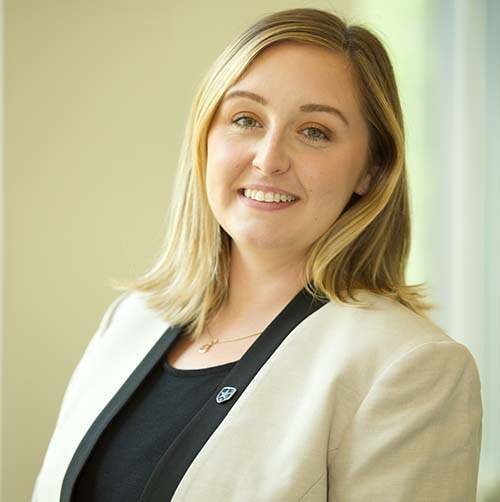 Jessica Harrington was named the student engagement coordinator for the College of Health and Human Sciences in late November.
As the student engagement coordinator, Harrington will oversee the college's professional mentoring program, assist in recruitment efforts and lead opportunities for current students in areas of professional development, engagement and more.
Harrington joined the college after serving as an assistant director within a living-learning community at the University of Maryland, College Park. As assistant director, Harrington advised more than 200 students on coursework and experiential learning requirements; organized student engagement and professional development events; managed corporate partner relationships and stewardship efforts; and lead recruitment efforts for the community. She has a passion for student development and will look to make an impact on the college's academic, professional and social communities.
She holds a bachelor's degree in English and secondary education from Shippensburg University and a master's degree in English language and literature from the University of Maryland.
"Jessica's previous experience in higher education and her passion to work with students will make her a great asset not only to the College of Health and Human Sciences but also K-State as a whole," said Chelsi Medved, search committee chair.
College of Health and Human Sciences students who are interested in the professional mentoring program can get more information at hhs.k-state.edu or email jnharrington@k-state.edu.