October 8, 2019
Open cupboard: Cats' Cupboard celebrates two years
Submitted by Sarah McGreer Hoyt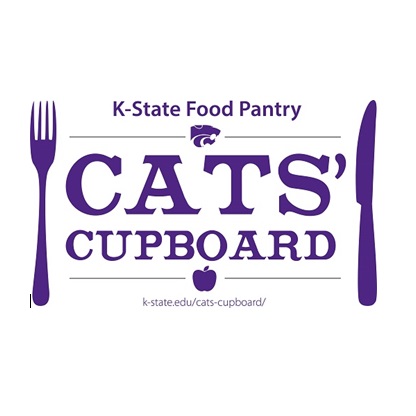 It's time to open the cupboard even wider.
Join Cats' Cupboard: The K-State Food Pantry for our open house from Monday, Oct. 14, through Friday, Oct. 18. We aim to shed light on food insecurity on the K-State campus and create new patrons and advocates among our students, faculty and staff.
Simply drop by during our regular hours of operation. You'll be entered in a drawing for one of several dozen prizes just for visiting. Receive even more entries by:
Bringing a friend.
Donating nonperishable food for the pantry shelves.
Additionally, we'll be celebrating World Food Day and our second anniversary on Oct. 16. Stop by 2-4 p.m. and receive cookies and coffee from the K-State Bakery Science Club and Arrow Coffee.
Instructors are welcome to bring their entire class; we'd be happy to give group tours. To give advance notice, email catscupboard@k-state.edu to let us know when you'll come by.
Prizes have been contributed by JP's Sports Grill, McAllister's Deli, Chick-fil-A and many more generous donors.
Why hold Open Cupboard?
More than 60% of our visitors say they learned about or decided to use Cats' Cupboard because someone they trust told them about the service. As such, Open Cupboard is intended to:
Inform the campus of our location and many services.
Amplify the effectiveness of word-of-mouth marketing.
Increase knowledge of related campus and community resources.
Leverage a food drive to help keep our shelves stocked.
To date, the Cats' Cupboard has seen more than 7,500 visits from nearly 1,200 unique users since opening in September 2017. Help us spread the word to those who haven't visited yet. Stop in, take a tour from a volunteer, donate if you're able and win great prizes.