September 24, 2019
K-State Fighting for a Cure shirts to be sold at Union Sept. 24 and 26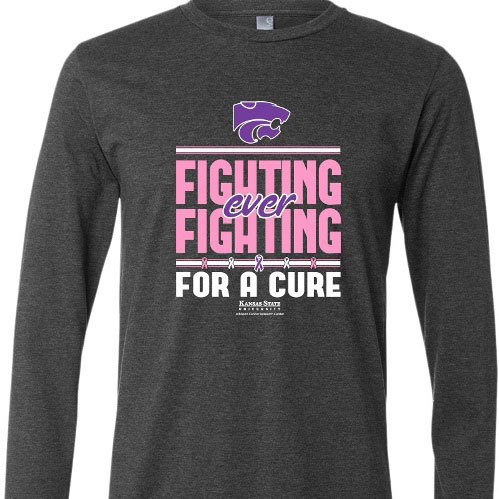 K-State Fighting for a Cure shirts will be sold by the K-State Cancer Fighters departmental student organization in the K-State Student Union 11 a.m. to 1 p.m. Tuesday and Thursday, Sept. 24 and 26. All proceeds benefit the Johnson Cancer Research Center, which supports and advances cancer research and education at K-State.
Get your shirt and wear it for K-State's sixth annual Fighting for a Cure Day, Saturday, Oct. 5, in honor of the K-State Family's cancer survivors and researchers.
The 2019 shirts come in both long and short sleeves. They are soft, stretchy, Bella-Canvas brand shirts in dark gray heather, ringspun cotton/polyester blend fabric. They feature a purple Powercat above the phrase "Fighting ever fighting for a cure" written in pink and white block letters. That phrase is inspired by the K-State fight song, "Wildcat Victory."
Learn more about the Fighting for a Cure shirt on the Johnson Cancer Research Center's website.