September 20, 2019
Horticulture Club's annual mum sale has been extended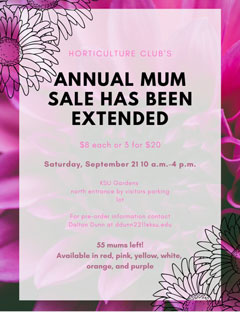 The Horticulture Club's mum sale has been extended to Saturday, Sept. 21. The sale will be 10 a.m. to 4 p.m. at the north side of the Kansas State University Gardens by the visitor parking.
Grab a festive fall favorite for $8 or three for $20. Colors available include pink, red, orange, white, yellow and purple.
Only 55 mums remain. For preorder information, contact Dalton Dunn at ddunn2211@k-state.edu.