September 5, 2019
Reminder: Secretary of State Pompeo to present Landon Lecture at 10:30 a.m. Sept. 6 in McCain
Submitted by Communications and Marketing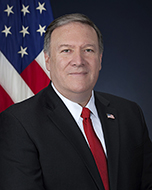 U.S. Secretary of State Michael R. Pompeo will deliver a Landon Lecture at 10:30 a.m. Friday, Sept. 6, in McCain Auditorium.
The lecture is free and open to the public. Security measures require that all attendees pass through metal detectors when entering McCain Auditorium. This is a no concealed carry event. The clear bag policy used at K-State sporting events will be in effect for this lecture. Details on the security logistics can be found on the Landon Lecture website, k-state.edu/landon. Bag check provisions will be available for bags not meeting the clear bag policy.
Doors to the auditorium will open at 9 a.m. Due to the additional security measures for this lecture, all attendees are asked to allot sufficient time to be seated by 10:20 a.m.