June 5, 2019
Gattani award recipients selected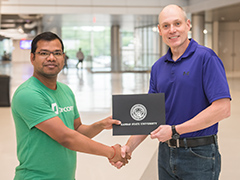 Doctoral candidates Ratan Lal, computer science, and Pedram Parandoush, industrial and manufacturing systems engineering, have each been awarded the Gattani Outstanding Graduate Student Award for graduate students who have demonstrated excellence in research in engineering and/or made significant impact to the graduate student population.
The award was established by Sanjay Gattani, in support of Kansas State University, the Carl R. Ice College of Engineering and graduate students, recognizing outstanding contributions in research and graduate education. Recipients receive a certificate and a cash award of $1,000.
Gattani graduated from Kansas State University in 1987 and 1993, with master's and doctoral degrees in civil engineering, respectively.
Read more about the Gattani Outstanding Graduate Student Award.