February 18, 2019
K-State Debate finishes as semifinalists at Spanish National Tournament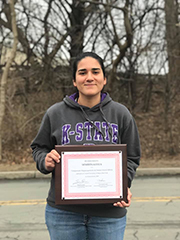 K-State has a long history of competitive debate success. Now, K-State debate is competing at the highest levels in both English and Spanish.
K-State Debate recently traveled to Cornell University to compete in the Spanish National Tournament, CHIDOS. Sofi Scavone, master's student in public health, finished as a semifinalist ranked among the top five teams.
The competition included teams from Mexico, Ecuador, Guatemala, Colombia, Venezuela, France, the U.S. and Paraguay.
Scavone participated on a hybrid team, competing with a partner, Marcos Vaquero Rull, from Universidad Iberoamericana León in Mexico.
This was the first time in the program's history that K-State competed in Spanish language debate. Scavone, who hails from Paraguay, is already a successful British Parliamentary debater, competing thus far in English language tournaments. The tournament was first time she got to test her debate skills in her first language of Spanish. Clearing to the outrounds as a semifinalist is a huge accomplishment both for Scavone and the K-State Debate program.
K-State Debate competes in both British Parliamentary debate and NDT/CEDA style policy debate. The group is always looking for new debaters, and have room for debaters of all levels of experience. If you'd like to learn more about how to get involved with the K-State Debate team, contact Professor Alex McVey, director of debate.