Kansas State University graduates are in high demand with increasing average starting salaries

Monday, Feb. 18, 2019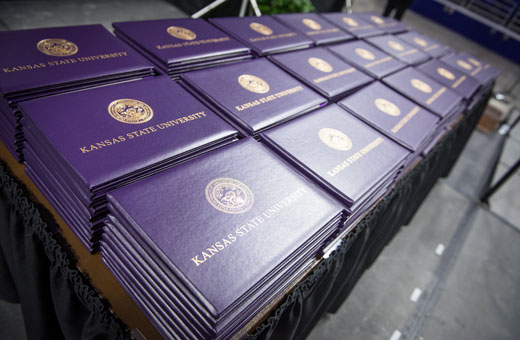 Kansas State University's Career Center has published the annual post-graduation report, which shows a record for employment and starting salaries. | Download this photo.


MANHATTAN — Kansas State University graduates continue to set records for employment rates and salaries in a wide variety of careers across the globe.

According to the university's annual post-graduation report, 96 percent of 2017-2018 graduates are employed or pursuing further education — a 1 percent increase from 2016-2017 graduates and a 2 percent increase from 2015-2016 graduates. In addition, the overall median starting salary for recent bachelor's degree graduates rose by 2 percent to $45,000.

The report, conducted by the university's Career Center, identifies first destinations of graduates by employer, major, position titles, starting salaries, geographic placement and furthering education. It uses data from 80 percent of the 2017-2018 graduating class that was collected up to six months after graduation.

"It's exciting to see the success and many pathways of K-State graduates," said Kerri Day Keller, director of the Career Center. "From education to technology to design and much more, our graduates are blazing new trails. Many are in jobs we couldn't even imagine 10 years ago, such as social media manager, digital production artist, bakery technologist, patient access representative and virtual classroom trainer."

Kansas remains the top state for employment with 59 percent staying in the state after graduation and 77 percent in the five-state area: Kansas, Colorado, Missouri, Nebraska and Oklahoma. The university's reach is broad though; recent graduates were employed in 47 states and more than 30 locations overseas. The top corporate employers by number of new grad hires are Cargill, Cerner, Koch, Shamrock Trading and Textron.

"While K-State prepares students to begin employment in the workplace, many graduates pursue their chosen career fields by immediately going on to advanced professional degree programs," Keller said. "There are many pathways from college to career."

Of the 18 percent of recent graduates who are continuing their education, the most common programs for furthering education include accounting, law, medicine, nursing, physical therapy and veterinary medicine.