February 18, 2019
Jeroen Roelofs recognized as Professor of the Week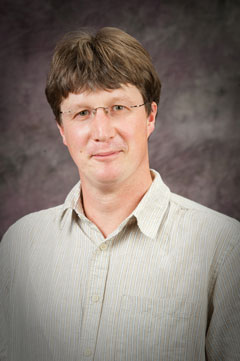 Jeroen Roelofs, associate professor in the Division of Biology, has been recognized as Professor of the Week.
Roelofs has three concurrent grants from the National Institutes of Health and the National Science Foundation: NIH R01, NIH R15, and a subcontract from NSF. In this difficult funding climate, this is extraordinary. He has published in high impact journals such as Nature and Nature Communications and other well-known and respected journals like Journal of Biological Sciences.
Roelofs is a superb mentor to students and, in general, a very collegial and friendly colleague. He participates in service committees in biology and at the university levels.
The Professor of the Week recognition is coordinated by Faculty Senate, the president's office, K-State Athletics and the Division of Communications and Marketing. Recipients are faculty members selected by Faculty Senate caucuses. Those selected are provided tickets to a men's home basketball game of their choosing and are recognized during halftime. This is just a small token of appreciation for those who teach at K-State.
Roelofs was recognized at the Feb. 16 home game.