February 4, 2019
Support Alpha Epsilon Delta Pre-Health Honor Society at Chipotle fundraiser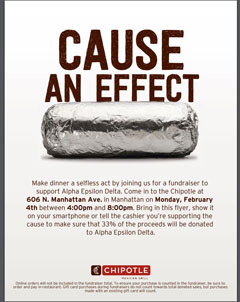 Join Alpha Epsilon Delta Pre-Health Honor Society, a registered student organization, for a fundraiser from 4-8 p.m. Monday, Feb. 4, at Chipotle.
Say you are with Alpha Epsilon Delta and present the event flier.
Bring all your friends and family to enjoy a burrito and support future health care providers.